Creatine To Muscle Up The Australasian Trotting Stallion Ranks
11 July 2017 | Written by Default Admin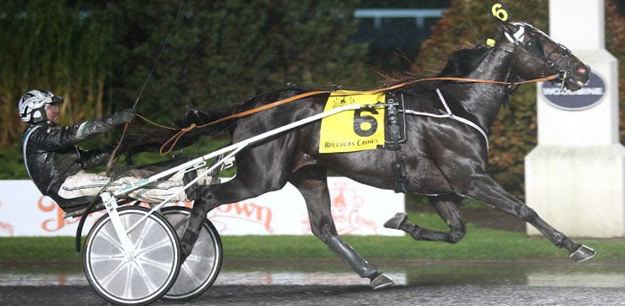 In what is a major coup for Australasian breeders, Nevele R Stud is excited to announce that the 2015 Breeders Crown Open Trot champion Creatine will be standing at our Canterbury farm this coming season.

Boasting career earnings of over $2.1 million and a lifetime mark of 1:51.4 - achieved when defeating the world champion Sebastian K, Creatine will be the richest and fastest trotter ever to shuttle to the Southern Hemisphere.

One of champion stallion Andover Hall's best sons Creatine was a major stakes race winner every season that he raced, and unlike any stallion available in the flesh in Australasia before, in both North America and Europe.

Trained for the majority of his career by Bob Stewart (the conditioner of the legendary trio of brothers Andover Hall, Conway Hall and Angus Hall) Creatine won three races at two including a division of the Bluegrass Stakes before being put aside for the season.

Bigger and stronger upon his return as a three-year-old in 2013, Creatine was one of the very best of his age group winning the Kentucky Futurity, Carl Erskine Trot, Colonial Invitational, Bluegrass Stakes and a Hambletonian elimination.

He was also a hard charging second in the $500,000 Breeders Crown 3YO Final, looking the likely winner with one more stride, as well as runner-up in the American National Stakes.

In what is often a difficult transition to make, Creatine more than held his own as a 4-year-old against what was arguably one of the greatest crops of aged trotters ever assembled, with the likes of Sebastian K, Intimidate, Market Share, Bee A Magician, Maven, Modern Family, Wishing Stone, Arch Madness, Archangel and Commander Crowe locking horns in 2014, and was actually the fourth richest older trotter that year behind the first three listed above - a hugely impressive feat for a four-year-old trotter new to the open class ranks.

The highlight of his four-year-old season, and one of the best of his career, was his superb performance in the Allerage Farms Open Trot at his favourite hunting ground The Red Mile in Lexington.

Starting from post eight Creatine blazed to the lead with a 26.8 opening quarter before finding himself three back on the running rail with first Master Of Law taking the lead and then Sebastian K. With Sebastian K clearing out to a seemingly unassailable lead, Creatine had to first avoid the tiring Master Of Law who galloped approaching the home turn and then make up four lengths on the world's fastest ever trotter who was in devastating form that year - a seemingly impossible task, but one a very brave Creatine managed to do, despite having been used off the gate and again in the closing stages.

He then followed up his career best 1:51.4 Allerage Farm performance with a track record 1:51.6 win in the American National Open Stakes at Balmoral Park less than a week later.

Creatine also recorded placings that year in the $500,000 Breeders Crown Final, $500,000 TVG FFA Final, $200,000 Charlie Hill Memorial, Centaur Trotting Classic, Dayton Trotting Derby, a Maple Leaf Trot elimination and the Chip Noble Memorial.
Racing predominantly in Europe as a 5-year-old Creatine won at the highest level and defeated some of Europe's best horses, taking out the Group 1 Hugo Abergs Memorial in Sweden and the St Michel Ajo in Finland. He was also second in the prestigious Group 1 UET Trotting Masters.

Brought back to North America for the $1,000,000 International Trot, Creatine was a game third to Papagayo E and two-time Elitlopp winner Timoko, being run down late after leading throughout and being taken on for much of the mile and a quarter trip. He was also, according to new trainer Jimmy Takter, "a little tied up" in the Yonkers feature - underscoring his toughness and making his performance that much more impressive.

On the strength of his showing in the International Trot connections opted to pay the $62,500 supplement fee into the $531,250 Breeders Crown Open Trot a fortnight later, with the stallion repaying his owners' faith with a dominant, and well deserved victory in the end of the season feature and what was to be his last race.

All up Creatine was the winner of 17 races and $2,182,138 in stakes-earnings.

Reflecting on Creatine's racing career, Hall of Fame driver Mike Lachance, who piloted him in almost all of his two and three-year-old starts (and many of his 4-year-old races), declared...

    "He was a perfect horse. He was a big, strong horse....a beautiful horse"

High praise indeed from the driver of some Harness Racing's greatest horses - Continentalvictory,  Matts Scooter, Bettor's Delight, Camluck, Self Possessed, Goalie Jeff, Magical Mike, Victory Dream etc...   

A Diamond Creek Farm homebred, Creatine is by the proven sire of sires Andover Hall, and is out of a stakes placed Muscles Yankee mare - making him an attractive proposition for the majority of Australasia's trotting broodmare population.

A terrific looking individual Creatine arrives on farm in August.

His service fee is $4,500 (+ GST) in New Zealand and $4,950 (incl GST) in Australia. He is included in both Nevele R's multiple mare discount and early bird special.