Record price for Father Patrick yearling
12 April 2021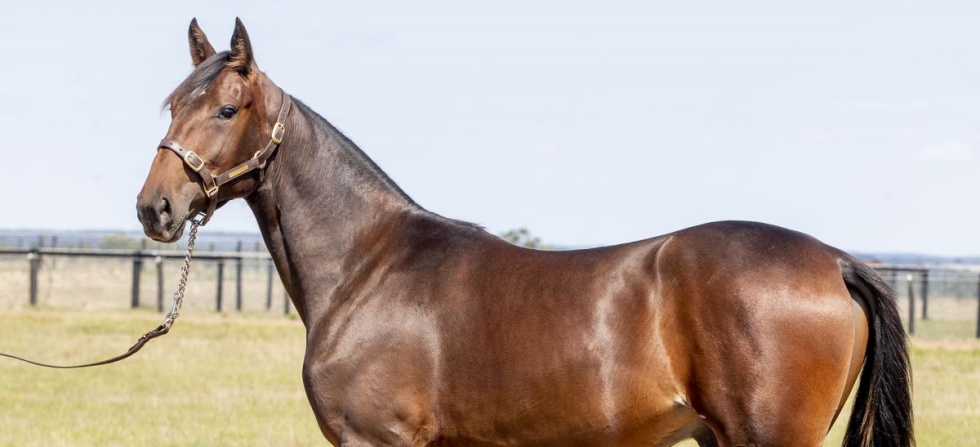 A colt by Father Patrick sold for an incredible $170,000 at the inaugural Nutrien Equine Standardbred Yearling Sale yesterday – an Australian record price for a trotting bred yearling.
The colt, offered by Yabby Dam Farms, was purchased by Alabar Australia.

A superb looking individual (pictured), the colt had a pedigree to match, being the first foal of the four-time Group 1 winning 2017 Australian 3YO Trotting Filly of the Year Une Belle Allure.

The $170,000 purchase price almost doubled the previous record price for an Australian trotting yearling of the $90,000 paid for the Muscle Hill colt Aldebaran Knox at the 2018 Australasian Premier Trotting Sale.

Father Patrick enjoyed a strong sale, with another colt, out of Maori Sunshine, thus making him a half-brother to the multiple Group 1 winner Moonshine Linda, selling for $50,000 and the stallion averaging almost $63,000 for five lots sold.

Nevele R's other two trotting stallions represented at the sale, Creatine and Muscle Mass, both averaged over six times their service fee and had top lots of $60,000 and $88,000 respectively.

The $88,000 paid for a Muscle Mass filly was the second highest price ever paid at auction for an Australian trotting filly.

Also consigned by Yabby Dam farms, the regally bred filly was the first foal of a dual Group 1 winning daughter of the champion trotting mare La Coocaracha and a half sister to current superstar trotting mare Dance Craze.

Sons of Muscle Mass were also in demand, with a half-brother to last year's Breeders Crown winner Cover Of Darkness selling for $88,000 and a colt out of Australian and NZ Trotter of the Year La Coocaracha making $60,000.

The $60,000 top lot for Creatine, offered by Rhiannon Park, was a half-sister to the reigning Australian 2YO Trotting Filly of the Year, Banglez, from a highly successful maternal family that includes the likes of A Touch Of Flair, Son Of Flair, 2020 Breeders Crown winner Sangreal, multiple Group 1 runner-up Andover Sun and Down Under Muscles.