Ultimate Machete for Alabar & Nevele R
15 April 2019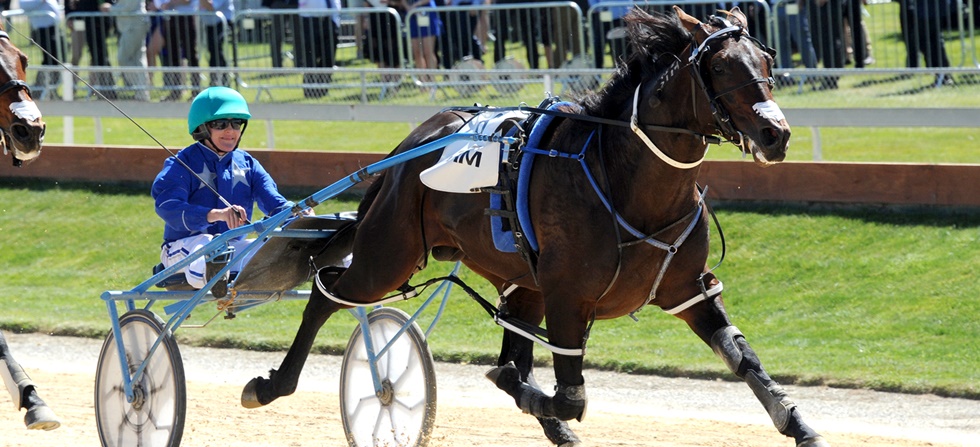 New Zealand Three-Year-Old Pacer of the Year
New Zealand Four-Year-Old Pacer of the Year
New Zealand's fastest ever pacer over both 1950 and 2200 metres
A four-time Group One winner
By an eight-time New Zealand Stallion of the Year from a mare destined to be New Zealand's Broodmare of the Year
Ultimate Machete has a stallion's résumé and a stallion's pedigree.
Now purchased by Alabar and Nevele R studs to stand at Alabar's Auckland property, he's also going to have a stallion's opportunity.
New Zealand and Australian racing is dominated by horses that thrive on today's style of racing. Horses that are able to roll forward into the race and then be unrelenting in last halves run in 54 seconds or better.
Ultimate Machete, with extreme toughness and a high cruising speed, personified this never-say-die rolling style of racing.
These qualities should come as no surprise as he is by Bettor's Delight out of a mare by Armbro Operative, so bred 3x3 to Cam Fella.
His entrance to the stud scene is surely timely, as many broodmare owners will see that breeding to him is breeding to a horse tailor-made for today's racing.
With his pedigree, the attributes he brought to his racing and also his stature (standing a shade under 16') he will be an ideal consort for the many mares that are bred along speed lines.
He is well suited to daughters of Christian Cullen, In The Pocket, Mach Three, Somebeachsomewhere, Courage Under Fire, Changeover, Art Major, Dream Away, Real Desire, American Ideal, Safely Kept, Falcon Seelster, Live Or Die and Badlands Hanover to name but a few.
In an outstanding race career, Ultimate Machete's flagship victories were:
- The NZ Sires Stakes Three-Year-Old Final at Addington on NZ Cup Day - where he announced his arrival as a rising star. His winning performance was nothing short of phenomenal, being caught out wide and just keeping rolling to be far too good in what was a New Zealand record for 1950m at the time. It is regarded as the best ever performance in the history of the race.
- Twelve months later, in the NZ Free-For-All on Show Day at the same venue, he did what many thought impossible by sitting outside Tiger Tara before winning the home straight war to claim victory – and in doing so, reclaiming his New Zealand record for the 1950m distance (2:15.7, a 1:51.9 mile rate).
- He then ventured to Perth where he monstered the Group One double for four-year-olds in the WA Classic and the WA Golden Nugget – wonderful efforts by the big horse around the tight Gloucester Park circuit and a testimony to his gait. He then ran a close up fourth in the Fremantle Cup before injury curtailed a blitz on the Victorian classics.
As a two-year-old, his second by a ½ head in the NZ Jewels, after being wide early then working to the lead, was a precursor to what would be a wonderful three-year-old season.
The other highlights to his three-year-old season were equalling the all-age New Zealand 2200m record (2:36.1) in winning the NZ Yearling Sales Series 3yo Final, winning the Alabar Classic and the NZ Flying Stakes (53.9 last 800m) as well as finishing second in the NZ, Northern and NSW Derbies.
All told, Ultimate Machete won 13 of 32 starts for $850,361 in stakes.
He'd already done enough to be regarded as a star - but a niggling, leg-injury-enforced retirement surely robbed him of being an open class colossus.
He was the early favourite for the 2018 New Zealand Cup but it wasn't to be.
Co-trainer, Mark Purdon is full of respect for Ultimate Machete,
"He was a very tough horse with a great attitude. He never gave in, always trying right to the wire. He was a horse who could really maintain his high speed."
Ultimate Machete is impeccably bred, being a full-brother to super-star three-year-old Ultimate Sniper. Their dam (Reality Check) was a very smart race filly winning the NZ Yearling Sales Series Two-Year-Old Fillies' Final. She is also the dam of the top Western Australia racemare and Group 1 Oaks winner, Major Reality (1:50.9, $434,415).
His grandam is the NZ Broodmare of Excellence winner, Maureens Dream, who is a half-sister to the excellent sire Tuapeka Knight.
This is a prodigious family made famous by renowned breeders, Tuapeka Lodge. Ultimate Machete is one of its proudest sons.
He will stand his debut season at Alabar NZ (in association with Nevele R) at an introductory service fee of $3,000 (plus GST)