Vincent for Alabar and Nevele R
10 April 2018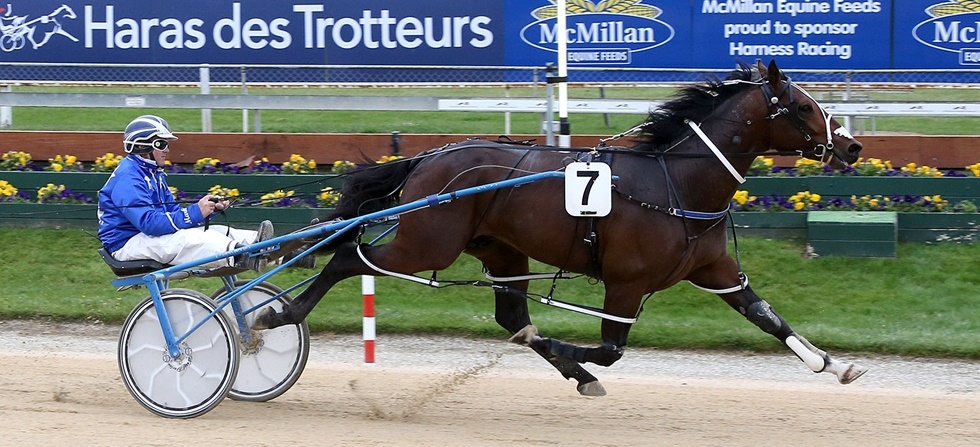 Vincent, the horse that Mark Purdon felt was going to be harness racing's next absolute superstar, has been purchased by the Alabar and Nevele R studs in partnership.
The imposing son of champion international sire, Art Major has been retired from racing and will stand at stud this coming season.

When Vincent cruised home in 54.4 to win the Auckland Cup on New Year's Eve, all the talk was that the world lay at his feet.

Remarkably, it would be his last start. Injury curtailed his four-year-old campaign and now the lucrative stud deal sees him commence a new career as what will surely be a highly commercial stallion.

Jean Feiss, who raced Vincent with her husband Bill, said:

"Vincent has been such a dream horse for us we were prepared to do everything possible to get him back to the track. He's already had his initial stem cell treatments."

"However, Alabar and Nevele R presented us with an offer to purchase him and we knew in our hearts that accepting it was the right thing for Vincent's long term future. He deserves a great home and to be given the very best chance at stud. We're sure he'll get that."

"Hopefully breeders send their best mares to him as Bill and I are certainly looking forward to checking out his yearlings."

Undoubtedly, Vincent was the dream horse. He had it all. Co-trainer, Mark Purdon is full of admiration for the horse that was harness racing's brightest rising star:

"He was a great young horse, the best of his year as a three-year-old."

"He came back great as a four-year-old and I thought he would eventually take Lazarus' place and go on to be the best horse in Australasia."

"He's a beautiful horse. Both Jean and I loved him when we saw him as a yearling and that never changed. Everyone he came in contact with him loved him as he was such a kind horse, a real gentleman."

"It's a great shame he's not coming back to racing but we're looking forward to training a few by him."

Prior to his final victory in the Auckland Cup, Vincent had done what the pundits said he couldn't and won the Group 2 Franklin Cup fresh up (0.1 of a second outside his own NZ record for a 2700m stand) and backed that up with a cake-walk, 54.6 last half win in the Group 2 Futurity Stakes at Cambridge.

He'd won his last seven starts in a row.

He flew to Australia to embark on a campaign that would surely seal his status as the next superstar of our sport. It wasn't to be, as injury befell him leading up to the Ballarat Cup and the Chariots Of Fire and Miracle Mile were sadly run without him.

All told, Vincent recorded 16 wins from 19 starts with four Group 1 victories.

The only time he was beaten on Australian soil (and the only time he was outside the first three in his career) was in the Victoria Derby when as a raging favourite he was taken out of the race by a damaged tyre.

As an individual who just oozes quality, Vincent was a $130,000 yearling at the Australian APG Sydney Sale.

He won first up at Invercargill and this proved to be his only start as a two-year-old as he suffered a minor leg injury. While this was a bitter pill to swallow with a young horse of rare talent, Mark Purdon felt in hindsight it was a blessing in disguise as it gave Vincent a chance to mature into his frame.

As a three-year-old, Vincent was nothing short of awesome.

He romped home on Auckland Cup day at Alexandra Park. Remarkably setting a new all-age NZ record for the 2700m stand.

He then ventured to Australia where he won his heat of the Victoria Derby before misfortune struck in the final.

On to Menangle, he won his heat of the NSW Derby and was superb in the final – sprinting home in 53.6, he recorded a 1:54.5 mile rate for the 2400m – 0.1 of a second outside the world record.

Back to New Zealand, he scored a career defining victory in the NZ Derby at Addington – fighting back to beat Ultimate Machete after being headed in the straight. This was another all-age NZ record for Vincent of 3:06 (1:55.1mr) for the 2600m mobile - and 2.5 seconds inside the previous record for a three-year-old held by Lazarus.

Vincent finished his three-year-old season off at Menangle with another incredible victory – this time in the NSW Breeders Challenge. He was three wide for the first half of the mile journey and then parked outside the leader but still won easily in 1:50.2 – making him the fastest ever Australasian three-year-old.

Vincent possesses a pedigree that all other stallions would be envious of.

He is sired by one of the world's best stallions in Art Major and is out of Kept For Pleasure, a four time Group 1 winner, who like Vincent retired on a winning note at the highest level.

At stud Kept For Pleasure has also produced the outstanding (My) Mackenzie who is fast closing in on $500,000 in earnings after winning major stakes races both in Australia and the US.

Vincent's second dam, Full Pleasure, also a Group 1 winner, has been one of the most remarkable broodmares in Australian history producing 10 foals for 10 winners and four, soon to be five, $200,000+ earners.

Vincent's pedigree lines him up beautifully with daughters of Bettor's Delight and other Cam Fella line mares, daughters of Christian Cullen, Mach Three, Somebeachsomewhere and other Direct Scooter line mares, daughters of American Ideal and other Western Hanover/No Nukes line mares and also mares from the Albatross line.

A dream horse with a dream resume for a stallion – type, pedigree and performance over all distances.

Vincent will stand at Alabar's Victorian farm with semen transported throughout Australia and New Zealand. Lifetime breeding rights will be available in both countries.